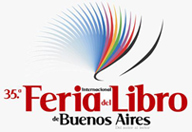 Océano Publishing was present at the 35ª Feria Internacional del Libro de Buenos Aires (International Book Fair in Buenos Aires), considered one of the most important cultural and editorial achievements in Latin America. The Fair, organized by the Fundación El Libro, brings together the main associations and entities in the Argentine publishing circle, serving as a meeting place for authors, editors, booksellers, distributors, educators, librarians, scientists and readers from all over the world. With a total surface of 45.500 m², the Fair contained approximately 1,256 participating exhibitors presenting from 42 different countries, directly and indirectly.
The 35th annual fair took place from the 23rd of April to the 11th of May of 2009 with the slogan "Think with books" and was considered a success by the organization despite the economic context in which it was held. Among those invited to this Fair, some figures, among many others, stand out - figures such as Jean Shinoda Bolen from the United States, Julia Franck from Germany, Michel Lafón from France, and the Swiss Henning Mankell.
Among the different cultural acts and activities celebrated during the Fair, the round table conducted by Daniel Goldin Halfon, Mexican editor and essayist and Publishing Director of the label Océano Travesía, received a lot of attention. It was entitled "Bibliotecas y escuelas. Retos y posibilidades en la sociedad del conocimiento" ("Libraries and schools. Challenges and opportunities in the knowledge society" ) (See Page). Among other topics of note, Goldin picked apart the keys to education at present and in the future, through the study of school performance and its relation to the quality of teaching staff as well as their constant turnover. He also referred to the time the instructor dedicates directly to each student and to the necessary allocation of resources for the schools and libraries as a fundamental key to the success of future education programs.
The round table conducted by the French anthropologist, Michèle Petit, also called attention to itself, "La lectura en tiempos de crisis" ("Reading in times of crisis") (See Page). In this encounter, Petit analyzed the inestimable value of literature as a space for encounter and self-awareness in times of crisis as well as in any other difficult context.
More information on the Fair organization can be found on the official web page: http://www.el-libro.org.ar