THE OCÉANO GROUP leads the global market in Spanish language publication. Today it is the largest distributor of editorial content in all Spanish-speaking countries.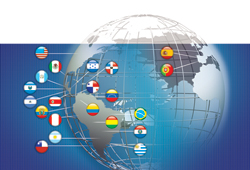 A network of the spread of Spanish language content,
constantly growing.
Our group is present in 21 Spanish-speaking countries on both sides of the Atlantic as well as in Portugal, Brazil and the United States.
This constitution allows THE OCÉANO GROUP to operate as both a global and national company at the same time, well renowned in countries where Spanish language culture circulates.
Our Editorial Group has been a pioneer in integrating new technologies with new channels for content creation. For the last number of years, we have been making use of the potential that the Internet offers as a highly valued complement to a growing number of our products.